Just a few weeks ago, FC Barcelona looked like they were going to cruise to the championship in La Liga as well as the semifinals of the UEFA Champions League. Since then, though, it has been a brutal stretch for the Spanish giants, with the club losing several big games to key rivals, as well as some games they are never expected to lose. As a result, what was once an easy path to a domestic championship has now become anything but for Lionel Messi and company. Will Barcelona's collapse result in a failure to win Spain's top flight?
Domestic Failures
It was just four La Liga matches ago that Barcelona led Atletico Madrid by nine points and Real Madrid by ten points atop the league standings. For a team as talented as Barcelona, a lead that big with just a couple of months left on the league calendar should guarantee them another championship. But a run of terrible form combined with streaks of positive results for the second and third place Madrid clubs have now put the season in doubt for Barcelona.
The tailspin for Barca started in El Clasico, where they lost 2-1 to their hated rivals Real Madrid. Barcelona struggled to put anything together offensively in that match, with their only goal coming on a corner kick, and the usual combination up front of Lionel Messi, Neymar, and Luis Suarez were seldom heard from. At the time, though, this result was thought to be nothing more than a confidence booster for Real Madrid, and meaningless for Barcelona, who would still cruise to the title. That turned out to be far from the truth after the next couple of games.
Barcelona followed that loss to Real Madrid up with two more losses, one coming to Real Sociedad and the other to Valencia, who are currently tenth and eighth in the Spanish league table respectively. Suffering one loss to a team in the middle of the league table is a shock for Barcelona, so two in a row in addition to a loss in El Clasico is grounds for outright panic from the most decorated team in the last decade in just about any sport.
While Barcelona were losing three matches in a row domestically, their chief rivals for the title continued to win. Atletico Madrid jumped from nine points back to draw even on points with Barcelona after four straight wins, while Real Madrid moved from ten points back to just one point behind their rivals with wins in each of their last five matches. It's been a seismic shift, and cause for legitimate concern for Barca.

European Failures
In addition to falling apart in La Liga, Barcelona was eliminated from the UEFA Champions League in the quarterfinal round. Having won that competition last year, everyone thought that Barca would advance past Spanish rivals Atletico Madrid in the quarterfinals, especially after claiming a one goal lead in the first leg of that matchup. But Barcelona fell apart in that competition too, and ended their championship defense with a whimper rather than a bang.
Against Atletico Madrid, the issue was that Atleti knew exactly what Barcelona wanted to do, and had enough experience against them to know how to defend it. Barcelona's possession based attack tends to lead lesser teams to play very conservatively on defense, which gives Barcelona carte blanche to pass the ball around the field and find the perfect opening to create scoring chances. Against Atletico Madrid, though, they were forced to play in less comfortable positions, as they were pressured earlier and higher up the field than they are against lower quality opponents in league play.
This tactical move by Atletico Madrid gave the underdog side chances to hit Barcelona when their defense wasn't fully set, which allowed them to advance past Barca and into the semifinals of the Champions League, where they have since drawn German champions Bayern Munich. In the other semifinal, fellow Spanish side Real Madrid will take on English squad Manchester City. It has to hurt Barcelona to know that their two rivals in Spanish football have caught up to them in the domestic league standings while also advancing past them in European competition as well.
Reasons For Barcelona's Collapse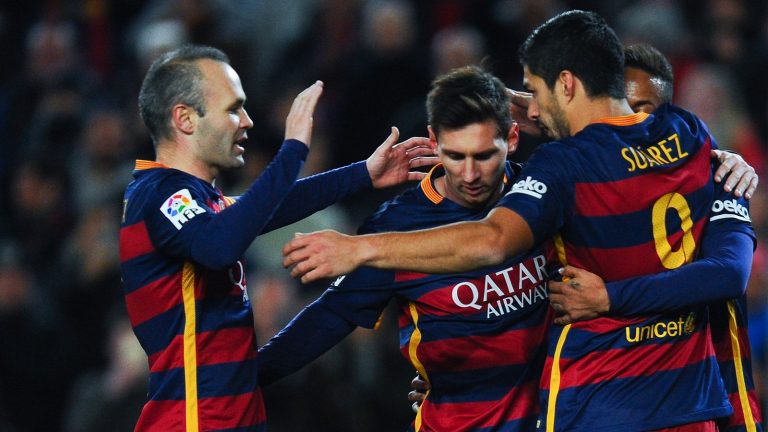 When it comes to Barcelona's collapse, the fact of the matter is that the goals simply have not been there the way you would expect them to for this Barcelona team. With Neymar, Suarez, and Messi all sharing a front line, seeing the team perform poorly on offense doesn't seem like a possibility, yet that is exactly what has plagued the team during this period of about a month that has seen their status as the best club in the world be thoroughly questioned.
In Barcelona's three straight losses in La Liga, they scored just two goals, with one coming against Real Madrid off of a corner kick and the other coming against Valencia. Both Valencia and Sociedad have allowed 40 or more goals this season, so for Barcelona to only score once against Valencia and to be shut out against Sociedad is a terrible run at the worst possible time for Barcelona. Since that three match losing streak, Barca has scored eight goals in a match against Deportivo La Coruna, but unless Atletico Madrid and Real Madrid drop some points this is still going to be a fight to the finish.
There are just four games left in the season in La Liga. Fortunately for Barcelona, they finish the season against Gijon, Betis, Espanyol, and Granada, four teams that they should be able to beat. If they win those four games, they are still guaranteed to win La Liga thanks to their superior goal differential to Atletico Madrid and being ahead of Real Madrid in the standings. But if there's anything we've learned from Barcelona lately, it's that there is no such thing as a certain victory. If they were to drop points during this run in, they could cement one of the biggest collapses in club history.
By: Jason M Sanin