The Premier League preview
The Premier League is back…
Chelsea v West Brom. Diego Costa and Cesc Fabregas were conveniently rested by Spain against Germany on Tuesday because of hamstring problems but there is the distinct possibility they will be fit for Chelsea on Saturday. This though will not affect the outcome of the game against WBA as, even if the Baggies are no pushovers, Chelsea are on a different level to everyone at the moment.
Everton v West Ham. Both of these teams have not lost for a while, Everton for four Premier League games and West Ham for five. Compared to last season, Everton at home have been a completely different proposition, but the time is right for them to return to their winning ways.
Leicester v Sunderland. Sunderland will definitely see this as a chance to continue their good little run after taking four points from their last two games whereas, Leicester are at the bottom of the form table at the moment. Since beating Manchester United to go seventh on the 21st of September, they have only scored two goals, both against Burnley, a clear sign that they are struggling.
Man City v Swansea. Nothing less than two wins from their next two games will do for Manchester City, first against Swansea and then Bayern Munich in the Champions League on Tuesday. Manuel Pellegrini has to pick his best team against the Swans to get the points in the bag, then, and only then, think about how to beat Bayern. Yaya Toure will surely play for 90 minutes on Saturday because he is banned in Europe after his ridiculous red card against CSKA, and the midfielder really needs to put in a super performance to make up for it. Swansea will try to punish any defensive uncertainty, especially considering the Citizens will be without captain Vincent Kompany.
Newcastle v QPR. This looks like the perfect chance for Newcastle to extend their five-game winning run against a QPR side that has not done well at all away from home. QPR have undoubtedly become more competitive of late, but away from the tight pitch at Loftus Road, they seem to be less effective and it really does look like they will manage to break away from the bottom 3 this week.
Stoke v Burnley.  Burnley finally got the win they needed beating Hull in their last match, but following that up with another three points at the Britannia Stadium will be a very difficult ask. Stoke have not been great of late at home, but winning at spurs will surely have given them great confidence.
Arsenal – Manchester.  United Not too long ago this fixture, and this fixture alone, decided the winner of the Premier League title. They were titanic, aggressive clashes that captivated the world and had so much riding on them. Those days belong to the past as today, Arsenal v Manchester United doesn't look likely to determine anything, with the sixth v seventh in the table (instead of first v second) facing-off in Saturday night's match.The last time these 2 teams met, with neither in the top four, one has to go back to September 1998 with Arsenal defeating Utd 3-0 at Highbury. What is so unbelievable is that from 1996 to 2004 these two squads dominated the Premier League winning every single title, and today's battle is more likely for a Champions League qualification place. Arsenal's recent record against United is pretty bad with the gunners winning only once in their last 11 meetings, in May 2011 when Ramsey scored the only goal at the Emirates. Louis van Gaal will be without Daley Blind (knee injury), David De Gea (finger), Michael Carrick (groin/pelvis), Marcos Rojo (dislocated shoulder), Rafael (muscles), Ashley Young (groin/pelvis), Phil Jones (calf/shin) and Jonny Evans (ankle/foot.). There are doubts with Angel Di Maria (ankle) and Luke Shaw (hamstring), which presents the Dutch manager with a few headaches to say the least.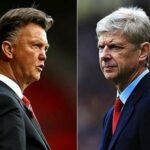 Wenger, on the other hand, is starting to welcome back some key players following his own injury crisis earlier in the season. Olivier Giroud, is back (following the broken tibia suffered at Everton in August) a month ahead of predictions. Having said this though, it's not all good news, as Theo Walcott has suffered another injury setback, ruling him out of the clash against Manchester United. The Arsenal and England forward has only just come back from fitness following a nine-month lay-off with a serious knee injury, but he has now returned from England duty with a groin problem. To add more worries for the Frenchman, Danny Welbeck is also a doubt for the game after picking up a hamstring injury whilst on international duty. The "Big" news for United though, is that Radamel Falcao's miserable start to his Manchester United career is continuing. He now faces a further two weeks out with injury with a calf/shin injury. The Colombian international, on a whopping £280,000 a week salary (or £40,000 a day), has managed just 251 minutes (1 goal and 2 assists) of playing time, costing United a cool £3,280,000 in salary to-date.
Crystal Palace v Liverpool.  Daniel Sturridge's latest injury is a huge blow for Liverpool and the time has come for Brendan Rodgers to give Rickie Lambert a proper chance up front. Crystal Palace have hit a bad spell, with just one point from their last five games, but at home they will give Liverpool a real run for their money. Liverpool's last visit to Selhurst Park is not one the Reds fans will want to remember (they were winning 3-0 before surrendering the win, and almost definitely, the title, drawing 3-3), but this can be the perfect place to kick-start their season.
Hull v Tottenham. Tottenham are defensively awkward and never look like scoring. Sign of a good manager struggling with a group of players that too many people contributed to sign: even they cannot do anything without the right players. Hull are on the back of a defeat that will still be burning inside and could use this match to get over this. Having said this though, Spurs really have to win this one.
Aston Villa v Southampton. This is a big game for both sides and will surely be a great advert for the Premier League. It makes so much difference to the atmosphere for players to be playing in a night match under floodlights and it is more exciting for fans compared to a Saturday lunchtime kick-off. Southampton have been awesome from the season and are being so consistent that this will now bring the pressure of a top 4 team along with it. Villa ended a run of six defeats with a draw against West Ham but, even with Christian Benteke suspended, will be looking to surprise everyone with a result in this match.