Sam Tomkins is the highest paid player in Super League history, has earned a lucrative contract to play for New Zealand Warriors in the NRL and is 16/1 to be top try scorer in the Rugby League World Cup. He is a key member of England's side to play Ireland in the next stage of matches but his parents will not be in the crowd in Huddersfield for Saturday's match.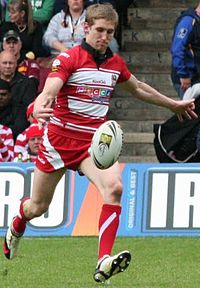 The Tomkins family are not being disloyal but faced a tough decision about where they watched rugby as their younger son Joel has been selected for England's rugby union side against Australia at Twickenham at the same time as Sam plays against Ireland. A third son is also a professional rugby league player so at some stage in the future they may have to decide which of their three sons they watch live.
England are 46 point favourites to beat Ireland in the handicap market. This means you can back Ireland at about 10/11 and the bet is successful if Ireland win the game, it is a draw or Ireland lose by less than 46 points. England are 1/100 to win the match but they were a similar price when losing to Italy in a warm up match.
In setting the handicap line the bookmakers have little to work on in terms of collateral form. There is no recent direct form between the two sides so it is guesswork in setting the handicap which is remarkably consistent across all bookmakers. Ireland have a contingent of Super League players, including Pat Richards from Wigan and 46 points looks a generous start.
The key to the results of any handicap in matches between two unevenly matched sides in any sport is motivation. For example, it is common in handball when the favourites are winning by several goals at half time that their level drops. The match has been won but often the underdogs score enough goals in the second half to cover the in-play handicap line.
Rugby league is a sport played at an intense level. It is an attritional sport in which gains of just a few yards are hard fought. The defence must remain committed to making the tackles otherwise their line will be broken and that results in tries. A drop in commitment of only 10% can be reflected in the score and hence the final margin of victory.
There could be a scenario in the game at the weekend in which England are winning by 30 points at half-time. At that point an opening handicap of 46 would be increased by something like 10 points as the expectation is that England would win by 56 points. The bookmakers have written a slowing down of the favourites ascendancy into their prices but they still overestimate the final margin which means following the underdog at half time in the handicap market is a sound strategy.
England have drifted in the betting to win the Rugby League World Cup. The final is at Old Trafford on November 30th and the potential participants are Australia and New Zealand. The Aussies are now 1/3 in the outright betting having hardened from 2/5 following a solid win against England in their first match of the tournament.
It now looks likely that England will play New Zealand in the semi-finals, with the winner of that match playing Australia in the final at the end of the month. New Zealand are the holders and will be looking to become the first country other than Australia to win back-to-back tournaments.
Australia were huge favourites to beat New Zealand in the final five years ago, a match played in the footy hotbed of Brisbane. New Zealand's win has gone down as one of the greatest sporting achievements in the history of the country as Australia were 18 point favourites to win the match on home soil.
Ireland were not totally outclassed in their first match defeat to Fiji. They matched their opponents for skill and offense but the Fijians seemed physically stronger and were able to dominate territory. Some of the hard hits on Ireland early in the game told later but Ireland kept the margin of defeat to a reasonable level, losing by 18 points.
If Ireland can't beat Fiji they are certain to lose against Australia and England. However, if they keep their focus and have enough physicality losing by less than 46 points to England is a distinct possibility. The match at Huddersfield is a sell out but the crowd should contain a significant number of Irish supporters who can inspire their team not to be totally overrun.
Australia are 42 point favourites to beat Fiji and 1/20 to win the match. Only the big hitters will be interested in investing £100 to win a fiver but some may see a 5% return on investment for no risk as a sound bet. Australia will be leading at half time and will win the match. However, if Fiji are again tough in defence a winning margin of more than 42 points may be beyond the Aussies.
Australia ultimately proved too strong for England in their first group match. However, England led by 10-0 early in the match but four tries for Australia either side of half time proved crucial. England needed two tries in the last five minutes and only a failed conversion prevented a late onslaught that could have resulted in the match being drawn. At least England played to their best despite a difficult week involving discipline problems and loss to Italy in a pre-tournament warm-up match.
The tournament does not finish until the end of November and there is a full programme of group matches before we enter the elimination stage. Crowd numbers have been excellent to date as rugby league fans in England and Wales take advantage of the opportunity to see stars of Super league and the NRL compete for their countries. However, it would be a major sporting upset if Australia did not beat England or New Zealand in the final at the Theatre of Dreams.