Serena Williams has an advantage in the world rankings of more points than the difference between Victoria Azarenka in second place and the player at number 20 in the current standings. She is now further ahead than a year ago which means she has won more ranking points in 2013 to date than any other player.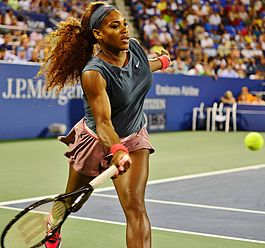 Williams has a limited schedule and the focus of her season is now the four Grand Slam events in Australia, France, Britain and the United States. Her lack of mobility is offset by the most powerful set of strokes in the women's game. She is able to overpower most of her opponents with weight of shot and accuracy from the baseline.
Without wishing to be disrespectful its fair to say Williams is not the best athlete in the women's game in terms of movement and flexibility. Her physique and technique means she can compensate for any unease of movement with precise and strong ground stokes.  Azarenka and Maria Sharapova are better movers but Williams still has the best all round game in the sport amongst her female peers.
The younger of the Williams sisters has now won 17 Grand Slam titles, including one of each at least twice. She has won one of the four biggest prizes in the sport in all but one of the last seven years. It could go down as one of her best achievements that she won the French Open this season for just the second time and after gap of eleven years since her first title in Paris.
Any player that achieves the career Grand Slam must have an excellent all round game that is effective on all surfaces. However, clay creates most problems for Williams but she was good enough this year to overcome her limitations on the red dirt, most notably in the final of the French Open at which point she beat Sharapova in straight sets.
Williams beat the second best player in the women's game, Azarenka, in the final of the US Open. She won the first set and then lost the second after a tiebreak but regained her focus to win the decisive third set for the loss of just one game. This match was a highlight of a fine season in which Williams again proved she is the best female player in the sport.