Before I get started, this is not going to be a piece of journalistic excellence where someone looks at the lead up to this match, we'll leave that to those who are much better suited to it (check out Sid Lowe's excellent piece here).  Instead we're just going to look at where the value is in the betting market and give you Jason Mills analysis on this match.
Normally we would be recording this with Natalie from SBR but she's feeling a bit under the weather so there won't be any videos this week.
BetAdvisor view:
What a game we have waiting for us here, a win for Barcelona will see them become title winners, anything less and it goes to Atletico Madrid.  Of course playing for a draw is one of the most dangerous things you can do in football so Atletico will be out for the win as well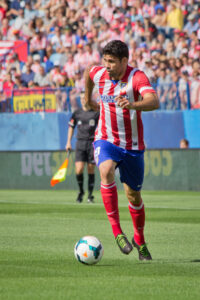 These sides have faced each other 5 times already this season and only once has the result not been a draw and that game ended with Atletico on top in the Champions League.  We could very easily see another tight game here and it's going to be tough picking one side or the other
Diego Costa could make it back for this one & Atletico are a better side with him in the team which could make next season interesting if the news about his upcoming transfer to Chelsea is true.  Of course any money they receive is likely to be reinvested with Roberto Soldado a potential transfer target after his disappointing first season at Tottenham.
As you would expect, Barcelona have the better head to head record over the years but recent games have been very tight.  The majority of games this season have finished in a 1-1 draw so if you think this could go a similar way you could risk a bit of money at odds of around 6.4 with SBOBet.
Personally I'm expecting Barcelona to win this game though I would love to see Atletico finish off the fairy tale story by winning the league.  So this one does come down to head versus heart and, for me, head wins out this time round.
My two bets would be for a home win which is at 1.84 with Pinnacle and under 2.5 goals which can be got at 1.94 with the same bookie.
Jason Mills analysis:
Home and away in all competitions there have been 4 draws in the last 5 meeting between these sides with the 5th being a narrow 1-0 victory – I'm keeping this very simple and saying this match will be drawn at very generous odds of 4.0.
Iker Leons analysis:
What an amazing match tomorrow between Barcelona and Atlético de Madrid to determine the winner of Spanish league 2013/14. The general feeling in Spain could be summarized as: Atlético de Madrid deserves the league but Barcelona will take the title.
The rational for the statement above are two reasons, both historical. First, Atlético Madrid is known as "el Pupas" what comes to mean something like "the one having bad luck" and their supporters call themselves as "the sufferers", and there is a long tradition of events supporting that. On the other hand Barcelona has a pretty solid tradition of winning Spanish leagues on last match, when other teams deserved more (Real Madrid in 1992 & 1993, Deportivo Coruña in 1994).
This has pushed the home win odds down further down that I think they should be. A key factor for me is the fact that a draw gives the title to Atlético de Madrid. That means that Barcelona needs to jump into the field to score and win, which has been proven very difficult this year against Atlético, which has potentially the best counter attack in Europe in this moments.
This is in my opinion giving edge to Atlético de Madrid odds, and although I am personally not very keen to bet on finals (and this match is one), I would find the Atlético de Madrid AH +0.5 valuable at current odds (2.12 in Pinnacle).
---
What are you expecting to see from this game?  Tell us what you think in the comments section below.